Healthy Trinity Giveaway
May 23, 2019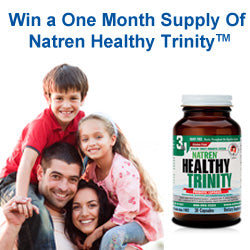 Are you curious about probiotics?  You've heard good things about their benefits, but never tried them yourself? Well – here's your chance to find out.
Every day throughout the month of July, we will be giving away a one-month supply of Health Trinity – our internationally recognized probiotic product.  Each capsule contains a minimum 30 billion colony forming units (cfu) of three powerful super strains of beneficial bacteria: Lactobacillus acidophilus NAS, Bifidobacterium bifidumMalyoth, and Lactobacillus bulgaricus LB-51, delivered in a unique oil matrix capsule to ensure unmatched survivability and stability, delivering them to the small and large intestines with virtually no loss of potency.
Every day through July, one lucky winner will be selected at random to receive a 30-day supply of Healthy Trinity, delivered to their home or office by 2-day climate controlled shipping.
To enter, head over to our Facebook page, enter your details, and let us know:
What do you do to keep yourself Healthy?
Contest open to US-residents aged 18 and above. Terms and conditions apply, see details on entry page.
The post Healthy Trinity Giveaway appeared first on Natren Probiotics Blog.