Fun with Homemade Yogurt: Our Favorite Toppings, Tips & Recipes!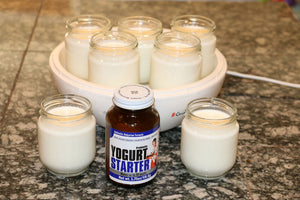 Yogurt is one of the most well known functional foods and often associated with probiotics, but unfortunately, not all yogurts will give you probiotic benefits. Many yogurt manufacturers pasteurize (heat) the yogurt after the cultures are added; they do this to kill potentially bad bacteria, but unfortunately it kills the good bacteria as well. In addition, many of them contain more sugar and artificial preservatives than a Twinkie (!!), and then there's the problem with all the sweeteners and flavors that have been added.
You'll be happy to know there is a healthier and easy alternative – you can make it yourself! That's right, homemade yogurt, it's so easy, and the end result is absolutely delicious. Not to mention, free from all those artificial colors, flavors, preservatives and sweeteners.   As an added bonus, when you're making it yourself, you get to add everything YOU like – and the healthy options are virtually endless!
Yogurt Starter
Making yogurt is a simple process, and has just 2 ingredients – milk and yogurt starter bacteria. We have a very simple recipe on our website that explains how to begin. While it may be tempting to use low-fat milk in your recipe, we recommend whole milk for a sweeter, creamier yogurt. For best results we suggest you use Natren Yogurt Starter as a base each time to ensure a consistent yogurt, better taste, and the right amount of beneficial bacteria throughout. One bottle of our Yogurt Starter can make up to 30 quarts of homemade yogurt; meaning you can make yogurt for much less than a dollar a quart! [1]
Once you've prepared your yogurt, store the natural yogurt in a refrigerator – it's not a good idea to add any additional ingredients just yet, since it may reduce the beneficial bacteria and cause fermentation.   Be patient, because the best is yet to come. There are thousands of fun and healthy ways to top off your homemade yogurt, and numerous ways to eat it, whether as an appetizer, a side dish, a yummy dessert, or even used as a wonderful substitute for sour cream, cream cheese and other dairy products. We love to use it in place of sour cream on potatoes, in dressings, sauces, mayos and even marinades.
For first-time customers
Save Now
Get 50% OFF our Healthy Trinity
30-count probiotics (plus $9.95 P&H).
Apply discount code BESTTIME at checkout.
Shop Now
Yogurt Toppings
Use your imagination and be creative. Here are some of our favorite toppings.
Fresh or frozen fruit – mango, pineapple, strawberries, blueberries, raspberries, peaches, you name it!
Fresh Veggies! (Yes really! Think shredded carrots combined with some cinnamon and honey or mashed sweet potatoes with maple syrup)
Nuts – raw almonds, pistachios, pecans, etc.
Seeds – flax, hemp, poppy, etc.
Raw Honey
Organic Molasses
Unsweetened Shredded Coconut
Granola
Spices – cinnamon, cardamom, ground cumin
Extracts – vanilla, almond, reduced wine
Check out our Yogurt Starter board on Pinterest for even more fun ideas!
Cooking with Yogurt
A healthier alternative to using oil, fat or eggs is to replace them with yogurt. Be careful though, the measurements aren't the same. A cup of oil is not equivalent to a cup of yogurt so as a general rule, slowly add in the yogurt and stir, checking for desired consistency. You'll be surprised how quickly you can get the hang of this, so don't be afraid to experiment. Make sure you know which flavor is best suited for each recipe too as savory dishes may taste nicer with plain yogurt while flavored yogurts taste nicer with sweet dishes. It's all a matter of what you like. It's important to note that when you are cooking with yogurt, when it's heated above 120° F, you will begin to lose the beneficial bacteria (but don't worry you can always take our probiotic supplements or stir in Natren's powdered probiotics just before eating the meal). Use either glass or ceramic mixing bowls too since the acidity in yogurt can react negatively to metals like aluminum foil or aluminum baking dishes and plastic can be porous and result in a bit of an aftertaste.
Yogurt Cheese
One of our favorite yogurt recipes is yogurt cheese. In our test kitchen, if we have not used all of our yogurt after a week and it is beginning to get tart, we extend its useful life by making yogurt cheese. And, it's very simple to make; simply suspend plain yogurt in cheesecloth over a bowl, let the whey drip out for 12 – 36 hours and then refrigerate. Yogurt cheese will keep for several weeks. It is actually quite nice to make yogurt cheese from culturing organic half and half to make a rich, thick and exceptionally creamy yogurt and then drain as usual to get yogurt cheese.  For a zesty taste, try adding sea salt or other flavors like dill and garlic. For a more premium quality yogurt cheese, use high quality organic milk or half and half and only Natren yogurt culture starter. As French masters would say, the ingredients and the technique make the end product incomparable.
Yogurt Cake
What can be sweeter than serving up a delicious homemade cake? Here's one of our favorites.
Yogurt Cake with Marmalade Glaze & Yogurt Cream (serves 8)
Ingredients
1 1/2 cups all-purpose flour
2 teaspoons baking powder
1/4 teaspoon salt
1 cup plain whole-milk yogurt
1 cup sugar
3 large eggs
1 teaspoon (packed) finely grated lemon peel
1/4 teaspoon vanilla extract
1/2 cup vegetable oil
1/4 cup lemon, orange, or grapefruit marmalade (for glaze)
1 teaspoon water
Preparation
Preheat oven to 350°F. Butter 8 1/2×4 1/2×2 1/2-inch metal loaf pan. Sift together flour, baking powder, and salt into medium bowl. In a separate medium-sized bowl, combine yogurt, sugar, eggs, lemon peel, and vanilla and whisk until well blended. Slowly whisk in dry ingredients. Using rubber spatula, fold in oil. Transfer batter to greased pan. Place pan on a baking sheet on center rack inside the oven. Bake cake for about 50 minutes and until it begins to pull away from sides of pan. Test for doneness by inserting a toothpick inside the center. Toothpick should come out clean. Cool cake in pan on rack 5 minutes. Loosen cake with a knife around the sides of pan. Turn cake out onto rack. Cake will be upside down. Turn cake upright on rack and cool completely. Wrap and store at room temperature. You can make a day ahead.
Melt marmalade and 1 teaspoon water in small saucepan over medium. Using a pastry brush, spread hot mixture over top of cake. Let glaze cool and set. Cut cake crosswise into slices. Enjoy!
For the Yogurt Cream:
1 cup whole-milk yogurt
1/4 cup honey
1/2 teaspoon vanilla extract
1 cup heavy cream, whipped to firm peaks
Preparation
Whisk yogurt, honey, and vanilla in a bowl. Gently fold in whipped cream. Serve generously with cake.
[1] Pricing may vary based on shipping options, taxes and retail or online sales channels.
The post Fun with Homemade Yogurt: Our Favorite Toppings, Tips & Recipes! appeared first on Natren Probiotics Blog.