Think Local, Buy Locally Grown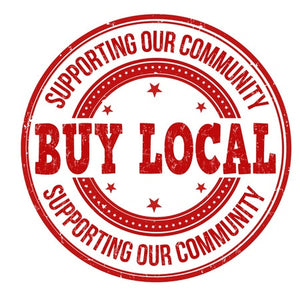 Known as the probiotic & health pioneer, Natren is proud to launch the "Locally Grown" campaign, designed to educate consumers about their products and the vast wealth of healthy food options grown right in their community.
"With the 'Locally-Grown' campaign, we aim to teach local consumers about our probiotics, which are cultivated, manufactured and shipped out of our Westlake Village pharmaceutically-certified manufacturing plant," explains Natasha Trenev, our founder and President. Other probiotic companies tend to cultivate their products overseas, but that's not the Natren way. Our facility and all our operations have been located in Westlake Village, California just north of Los Angeles, since 1990.
The Locally-Grown Campaign
The Natren "Locally-Grown" Campaign isn't just about celebrating the probiotic products made in Westlake Village, but the locally grown produce as well. We believe in educating our customers by providing customized and holistic recommendations that include a diet rich in fruits and vegetables. What better way to serve the local community than by highlighting the wide variety of local produce available in Ventura County – the same local farmers that ship their products to areas across the United States. We plan to focus our attention not just on our own locally made products, but on the natural goods offered right in our backyard. These probiotic products are available in local health food stores throughout Southern California, including Lassens Natural Foods & Vitamins, Sprouts Farmers Markets, Erewhon Markets and Whole Foods. To find a store near you try Natren's Store Locator.
Benefiting From Probiotics
Probiotics are ingested live microorganisms that provide health benefits. The idea of consuming bacteria to benefit the body is a difficult one to understand for many people. The organisms offered in Natren probiotic products are what scientists call beneficial bacteria. The human body plays host to literally millions of microbes. They have an active role in everything from digestion to warding off disease. Probiotics, by design, promote a healthy digestive tract by enhancing and diversifying the gut microbiota.
There are two questions consumers should ask when shopping for probiotic products.
Where do they come from?
What is in them?
These are questions easily answered when buying the locally made probiotics from Natren. Our company founder, Natasha Trenev, worked for years in her family's yogurt business. She was able to take what she learned there and use it to research the health benefits of probiotic cultures. Today, Natasha is a world-renowned expert in the field of probiotics.
Through the "Locally-Grown" campaign, we hope to educate others about the power of probiotics, especially when combined with a healthy diet and exercise program. As part of this campaign, we intend to tell the world about the locally-grown foods found in Southern California and how they, along with the locally cultivated, manufactured and shipped probiotic products from Natren, fit into a healthy lifestyle.
More about Natren
Natren is the top manufacturer of pharmaceutical-grade probiotic products globally. We have a strong reputation as an industry leader and have produced some of the most powerful probiotic strains available on the market. Our Westlake Village facility has the International Good Manufacturing Practice (cGMP) Medicinal Foods Certification by Australia's Therapeutic Goods Administration (TGA). This certification is recognized by 49 member nations.
Since its inception in 1982, we have maintained "hands-on" control of every stage of product manufacturing. In other words, we manage each phase of the process from cell growth right to the store shelf and even into the consumer's home.
Natren produces a wide variety of probiotic products including:
HEALTHY TRINITY®
LIFE START®
HEALTHY START SYSTEM®
GY-NA•TREN®
DIGESTA-LAC®
Our products are carried by local Southern California health stores such as Lassens, Sprouts, and Whole Foods Market.
You will find Natren probiotics in the retailer's refrigerated case. Natren maintains a cold chain of custody throughout the manufacturing and retail process. It's likely no other manufacturer goes to such extremes to ensure their products quality.
As we celebrate our 35th anniversary, which includes 27 years as a thriving Westlake Village business, we have just recently broken ground for a new state-of-the-art site that will increase their production capacity by 5,000 percent. This new construction also provides the community with a number of benefits including upgraded sidewalks and the storm water systems. Natren will enhance the visual impact of the plant, too, by updating the facade.
The post Think Local, Buy Locally Grown appeared first on Natren Probiotics Blog.