4 Simple Ingredients for a Healthy, Probiotic Filled St. Paddy's Day Smoothie
March 17, 2018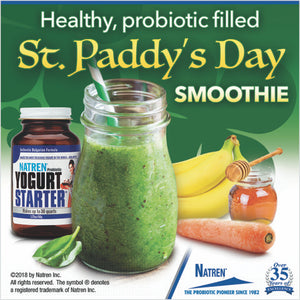 Green is the Theme this time of year, so we thought we'd liven up the St Patrick's Day celebrations with a real live drink – literally!
This probiotic smoothie is packed full of live beneficial bacteria – great for maintaining a robust & healthy digestive system, and even providing a helping hand if the traditional festivities get out of hand.
The Recipe
It doesn't get any easier than this – you'll need a blender, and the following ingredients:
2 cups of spinach leaves
1 banana
1 medium to large carrot
¾ cup of Natren Yogurt (or the healthiest store-bought natural yogurt you can find)
¾ cup of ice
Optional: Honey or Maple Syrup to desired sweetness
Combine all ingredients in the blender, and blend until smooth. You can even give the smoothie more probiotic power by adding Natren single strain probiotic powders (add after blending and stir in).
Benefits of Homemade Yogurt
While this recipe can be made with store-bought yogurt, we suggest making your own at home – not least because the ingredients list of store-bought can be horrifying! Making your own is not difficult, and we have written several articles in the past to help you on your way:
In Our Customer's Words
Don't just take our word for it – check out this rave review from one of our recent customers – then try it for yourself. Enjoy!
OMG! I just made my first batch of homemade yogurt using Natren's Yogurt Starter what a difference! I already notice a difference in my gut health. My stomach is not as acidic as it was before I tried this. It was very easy to make too. I'm never going to buy yogurt in a store again!"
— Sharon Costanza
The post 4 Simple Ingredients for a Healthy, Probiotic Filled St. Paddy's Day Smoothie appeared first on Natren Probiotics Blog.