Make Your Own Easy & Delicious Yogurt with Natren's Yogurt Starter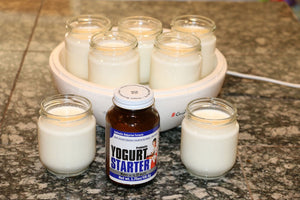 Have you ever wondered what it would be like to make yogurt at home? You might be surprised how easy it is and the yogurt you can make with a Natren's Yogurt Starter, even better than what is available at your local grocery store. Natren's Yogurt Starter and organic milk offers everything you need to enjoy delicious homemade yogurt with the added benefits that come from our powerful probiotics.
Natren's Yogurt Roots
Natren's founder grew up in a family involved in the yogurt business for generations. Natasha recalls, "As a child, I grew up hearing stories about my ancestors and their prosperous yogurt business. Our probiotic yogurts were famous – so famous that we supplied it to the royal family of Yugoslavia." After relocating to California in 1956, Natasha's father began producing his quality Bulgarian style probiotic yogurt in America.
In 1980, Natasha started to culture her own probiotic supplements using proprietary methodology and set the gold standard leaving other companies behind. In 1989, the Natural Nutritional Foods Association (NNFA) used guidelines written by Natren's very own Natasha to create their Probiotic Labeling Standards. Other manufacturers claim to have a yogurt formula, but Natren's is a traditional, unique and tasty Bulgarian yogurt recipe, passed down over generations and is still the best that money can buy! And speaking of buying, one bottle of Yogurt Starter costs less than 20 dollars and makes up to 30 quarts of yogurt, or about 120 cups![1]
Natasha is proud of her family's yogurt roots, which is why she included the Natren Yogurt Starter in the company's unique probiotic product line. The yogurt you buy at the grocery store may not be as healthy as you think. A recent report by The Cornucopia Institute, accused a number of major yogurt brands of misleading innocent parents to buy yogurts containing large amounts of sugar, artificial sweeteners, emulsifiers, and colors. A practical solution is to create your own yogurt at home using Natren's Yogurt Starter and organic milk. It's easy to do and you know exactly what is in the yogurt you give your family each day. In addition, you can fortify your homemade yogurt with Natren's powdered probiotics like those found in the Healthy Start System. Just sprinkle some probiotic powder into your homemade yogurt just before you eat it for extra digestive and immune support and health benefits.
What Do You Need to Make Yogurt at Home?
It seems like making yogurt would be a complex process but it's surprisingly easy. You'll need to have the two key ingredients on hand: Natren's Yogurt Starter and 2 quarts or  liters of organic milk. Make sure you use whole milk for a full, creamy taste.
Along with these quality ingredients, you need a few kitchen tools including:
Making yogurt is as simple as heating the milk in the double boiler, letting it cool until lukewarm, adding the yogurt starter, and incubating for 8-10 hours. That's all it takes to make good tasting and healthy yogurt complete with probiotic strains that improve gut health. Refer to our yogurt recipe for full instructions and alternative milk ideas.
Make Good Use of Homemade Yogurt
Now that you have easy access to yogurt that is full of probiotics, what are you going to do with it? Consider some other ways you can put yogurt to use. How about something simple to snack on during the game like warm southwestern greek yogurt dip? A delicious and guilt-free snack perfect as a spread or dip? Made with taco seasoning and your own homemade probiotic yogurt, it is a better choice than commercial dips full of fat and calories.
Maybe you are looking for something a little sweeter? How about some fruity yogurt bites, good whether you serve them with breakfast, drop them in the lunchbox or offer them up for dessert. All it takes is some cupcake tins or muffin cups, homemade yogurt and your choice of fresh berries. Just drop a few spoonfuls of yogurt into the tin, decorate with the fruit and then let them freeze for a couple of hours.
Of course, yogurt is a must-have ingredient for a refreshing and good for you smoothie. Maybe try something a little different next time and layer flavors — banana and blueberry, for example. Just blend your banana and yogurt and fill the glass a little over half. Make a second smoothie with blueberries and yogurt and layer it on top. Adding a little extra yogurt with each flavor thickens it up, so you get that layered effect. We have an entire collection of amazing yogurt based smoothies on our Pinterest Board for you to explore!
Store bought yogurt isn't what it used to be and that's a problem. Today, commercial brands are laced with preservatives and chemicals that make it less healthy. Don't settle for less. Natren offers consumers a chance to make their own homemade yogurt concoctions that are not only better tasting but made with proven probiotic strains to support gut and immune health.
[1] Pricing may vary based on shipping options, taxes and retail or online sales channels.
The post Make Your Own Easy & Delicious Yogurt with Natren's Yogurt Starter appeared first on Natren Probiotics Blog.