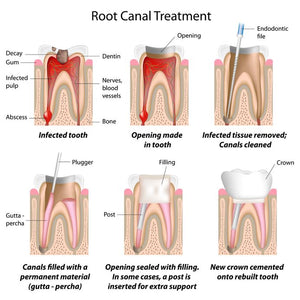 May 22, 2017
Is it possible that probiotics can make a root canal more effective? It's a question that is not fully answered yet, but some scientists have felt it was worth asking. A 2017 study published in the Journal of International Society of Preventive & Community Dentistry looked at this very scenario to see if using probiotic products containing the right mix of healthy bacteria might help improve or maybe even prevent the basic root canal. What is a Root Canal? A root canal is an endodontic procedure designed to repair and save a decaying tooth. The objective of most root canals.... [Read More...]
The post Probiotic Bacteria are Being Studied for Root Canals appeared first on Natren Probiotics Blog.
July 14, 2014
There's a lot to think about when you're trying to become pregnant. Probably the last thing on your list of priorities is seeing your dentist – but maybe you should reconsider. An interesting body of research finds a link between bacteria that live in the mouth of a mom-to-be and a higher risk for pre-term delivery. It might seem farfetched that mouth bacteria could have any effect on pregnancy but some research suggests otherwise. Researchers at Baylor College of Medicine and Children's Hospital have been busy sequencing the genes of bacteria from the placentas of babies born at full-time and.... [Read More...]
The post Why You Should Visit Your Dentist Before Getting Pregnant appeared first on Natren Probiotics Blog.