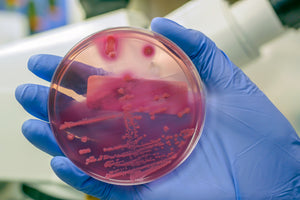 November 23, 2015
This November we're Giving Thanks to Bacteria During the past few months we've been talking about the benefits of probiotic bacteria in the animal kingdom but did you know that bacteria is proving to be beneficial in places where you just wouldn't expect it? It is astonishing to think that bacteria was something we used to avoid, but that was well before we knew what we know now. Bacteria is incredibly smart, and you'll be amazed when you read how bacteria are being used to improve the world around us from repairing concrete, cleaning up oil spills to detecting landmines..... [Read More...]
The post Is it Glue, Is it Wrapping Paper? No, it's Bacteria! appeared first on Natren Probiotics Blog.
November 28, 2013
Thanksgiving is a time to express gratitude for all you have and to celebrate family and the company of friends. Of course, we should be grateful for every day, but Thanksgiving offers an opportunity to share our gratitude with others – and enjoy a bountiful meal at the same time. Ah, the taste of freshly-carved turkey and rich gravy, mashed potatoes, dressing and a touch of tart from the cranberries! It's a meal to remember long after the dishes have been washed and put away. Of course, you want those memories to be pleasant ones, not marred by digestive upset.... [Read More...]
The post Giving Thanks…. For Great Digestive Health appeared first on Natren Probiotics Blog.