7 Simple, Healthy and Warm Winter Snacks to Kick Off 2017
January 30, 2017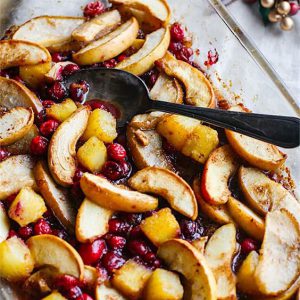 The holidays are over – now it's time to kick your new year off right with healthy eating in 2017! Did you know that the average American gains 0.4 percent of their body weight within ten days after Christmas? This means a 150lb person could gain more than a half pound in just ten days – and this is on top of 0.2 percent weight gain during Thanksgiving.
What's worse is that holiday foods tend to be very high in sugar, fat, cholesterol and empty calories. Add a few drinks, the hustle and bustle of shopping, parties, and the stress of family gatherings and you have a recipe for poor health. Fortunately, you can kick off your New Year with these simple, healthy and warm snacks in 2017. Remember, that just about any meal can be made into a Probiotic Powerhouse Meal simply by stirring in ¼ to ½ a teaspoon of Natren's powdered probiotics.
Seven Healthy, Warm Winter Snacks that Get You Back on Track
1) Start your day out right with a Warm Banana Coconut Breakfast Bowl

Combine two ripe bananas with a half-cup of coconut milk, 1 1/8 cup of shredded coconut and a teaspoon of cinnamon. Bananas are good sources of Vitamin B6, Potassium, Manganese, and Fiber while Coconut provides additional minerals like Manganese, Phosphorus, Iron and Magnesium and also adds more fiber to this healthy breakfast.
2) Easy Spiced Hot Fruit Bake is another great way to start your day
Apples, cranberries, pears and pineapples provide vitamins, minerals, and fiber. Cranberries are a very good source of vitamin C, manganese, and dietary fiber, as well as a good source of vitamins E and K, pantothenic acid, and copper. Cinnamon has antioxidant, anti-inflammatory, antimicrobial and many other beneficial properties. Enjoy this gluten-free fruit bake by itself or as a topping for oatmeal, pancakes or waffles. Mmmmm!
3) Slow Cooker Spiced Nuts
This recipe combines the goodness of nuts with honey, maple syrup, and spices. An ounce of roasted nuts provides 10 percent of your daily protein, 3.6 percent of your daily fiber, and contains magnesium, phosphorus, potassium, and vitamin K. The honey in Slow Cooker Spice Nuts adds natural antibacterial properties. Eating a handful or two of these nuts helps your body start 2017 on the right foot.
4) Stovetop Cinnamon Apples
This is a paleo, vegan, gluten-free and dairy-free option for breakfast, a snack or dessert. Apples contain beneficial antioxidants and flavonoids. It's simple, warm and a tasty treat to keep your sweet tooth satisfied without added sugar.
5) Crispy Roasted Chickpeas
A vegetarian-friendly source of protein, garbanzo beans also contain fiber for a healthy colon, manganese for bone development and wound healing, and folate for new cell growth and brain cell communication. These nutrients will help you get the most out of the nutritious food you eat, keep your bones strong, and stay focused in the New Year.
6) Gingerbread Breakfast Smoothie
This warm and creamy drink is jam-packed with minerals. A delicious smoothie with ginger, rolled oats, Blackstrap molasses, and other healthy ingredients. Ginger relieves digestive problems, such as nausea, appetite loss, pain, and motion sickness. Oats contain more dietary fiber than any other grain and may help lower cholesterol. Blackstrap molasses contains magnesium and calcium that support bone health, iron for healthy blood, and potassium.
7) Maple-Roasted Cardamom-Spiced Carrots and Apples
A great way to fill your kitchen with a warm and inviting aroma. Related to ginger, cardamom combats nausea, bloating, acidity, heartburn, gas, loss of appetite and more. Carrots are a tasty source of fiber and contain antioxidants, vitamins A, B8, C, K, pantothenic acid, folate, potassium, iron, copper, and manganese.
The post 7 Simple, Healthy and Warm Winter Snacks to Kick Off 2017 appeared first on Natren Probiotics Blog.