Celebrating Dad on Father's Day
June 14, 2014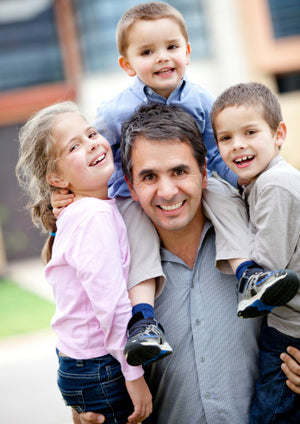 Father's Day is a chance to show gratitude to dear old Dad.  Where would you be without him? It's a time to sit back and think about all your father has done for you over the years and what he means to you. Chances are your dad was a provider and a protector that the family looked to for guidance and support. Times have changed and your dad may not fit the mold of "Leave it to Beaver" dads of the past who wore a tie and a hat to work, worked a nine to five job and then sat down with the family for dinner – but whatever role your dad played it's an important one.
Having a caring dad helps children build self-esteem and give them the confidence to take on the world. Dad provided emotional and financial support and was there to lend a sympathetic ear when you needed it the most. If dad had a positive influence on your life, you'll likely pass it on to your children.  A dad's influence is felt for many generations to come. Fortunately, there's a special day called Father's Day where you can reflect on all dad does for you and convey those feelings of appreciation. It's a chance to celebrate everything DAD!
Father's Day is more than just cards and gifts. It's a chance to tell your father what he means to you. Gather your favorite photos of dad and make a scrapbook. Under each photo, write down something meaningful about the day the photo was taken. Then share the scrapbook with your dad on Father's Day to rekindle old memories. Make a list of all the reasons you appreciate your dad and turn it into a poem or a song. These personal touches will mean more to your dad than an expensive gift.
Celebrate dad by sharing the most important thing – your time. What does your father like to do most? Fishing, hiking or bike riding? Then do it with him. Go bowling or play a round of miniature golf on his special day. Top a great day off by eating in your dad's favorite restaurant or treat your father to a home cooked meal made by yours truly. How about topping the meal off with a personalized Father's Day cake? Chances are your dad doesn't need another necktie or bathroom. What he'd like is to spend time with you. Time is one of the best gifts you can give.
However you choose to celebrate, take the time to show dad what he really means to you. Father's Day only comes around once a year. Make it a day dad won't soon forget.
The post Celebrating Dad on Father's Day appeared first on Natren Probiotics Blog.