Do Your Probiotics Survive Shipping, Storage and Stomach Acid?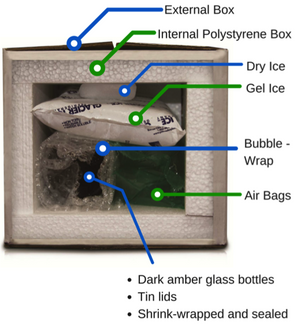 We talk a lot about what's in our products (carefully selected super strains of beneficial bacteria) and what's not in our probiotic products (No GMO's, No FOS, Soy Free, Gluten Free, Dairy Free Options, etc) but today we want to talk about how we handle our probiotics and why that's unique.
Probiotics are living bacteria, and like most bacteria, they can be severely weakened or killed by prolonged exposure to moisture or heat. That's a big problem, because although we take every step necessary to ensure that the probiotics are kept at the optimum temperature and humidity during production and storage at our pharmaceutical-grade manufacturing facility in Westlake Village, California, once they leave our premises the journey can be quite harsh. Here is a behind the scenes look at how we ensure that your probiotics reach you in the condition they need to – alive, well, and ready to go to work! And we are so confident about this process that we offer a 100% potency guarantee of each probiotic strain through the printed expiration date!
Try Natren Healthy Trinity
Experience the Natren Difference!
Get 50% OFF our Healthy Trinity
30-count probiotics (plus $9.95 P&H).
Apply discount code
BESTTIME
at checkout.
Shop Now
Manufacturing & Packaging
Natren probiotics are manufactured and stored in a temperature and humidity-controlled environment at our headquarters. Ideally, we need to keep them in that state all the way to your doorstep. The key to this is high quality packaging – and that takes more than a regular box!
The vital feature shipping our probiotics cold is ice – and lots of it. This is no ordinary ice though – we use commercial grade gel ice packs to and during warmer temperatures, we add an additional helping of dry ice to keep the probiotics cold. All of this is contained inside a polystyrene layer within the cardboard outer box, which insulates the contents against the outside environment.
Finally, we carefully wrap each bottle with bubble-wrap – not only for insulation – but also to act as a moisture and freeze barrier between the probiotics and the ice. Any space left in the thermally controlled box is filled with air bags to avoid breakages in transit.
The bottle itself is designed to protect the probiotics inside. The dark amber glass bottles offer protection from light and moisture, at Natren we believe glass offers much more superior protection from moisture than plastic bottles that may allow moisture and gases to seep in over time. The metal lid is also designed to prevent damage from moisture, and the plastic shrink-wrap adds an additional layer of protection for the glass bottle, and also serves as a safety seal to the consumer that the product is intact and has not been tampered with. These glass bottles are also eco-friendly and recyclable.
Shipping Methods
Once we have packed the probiotics into our thermally controlled shipping boxes, the next step is shipping itself. We only allow next-day air or 2-day delivery options– after all, there is no point putting all that cold packaging together if it spends 5 days in a shipping warehouse or a cross-country truck! Also, we only ship products on Mon-Wed (2nd day air) or Mon-Thur (next day), so that we reduce the need for a package to sit in a warehouse over the weekend awaiting delivery.
Receive Your Probiotics with Confidence
When you receive a shipment of Natren probiotics you will see that our boxes are clearly marked so you know that your cold shipped probiotics have arrived and you also know exactly what you need to do to care for them. Our white boxes stand out among the traditional brown shipping boxes – and even this is done for a reason – we want you to know that your probiotics have arrived and not to confuse them with any other packages being delivered. This way you can transfer them to your refrigerator right away.
In addition our boxes are obviously marked indicating the contents are FRAGILE and GLASS. A label cautioning you on the addition of Dry Ice (when used) and how to handle it (with gloves) will be affixed to all boxes shipped under these conditions. Often times the dry ice will have completely, or almost completely, evaporated during shipping which is normal and just means it has done its job. Care instructions (refrigerate upon receipt, don't freeze) are also clearly printed on the outside of the box ensuring you know exactly what steps to take, without a doubt, upon receiving your probiotics. And finally, you will notice our boxes are also labeled with Natren's 100% potency guarantee! We guarantee the potency of each probiotic strain through the expiration date!
From Cell to Shelf – We Care Through The Whole Process
Probiotics are ALL that we do, we have been researching, formulating and shipping probiotics for over thirty years. We know how to handle them and get them to you! By going the extra mile with our shipping & packaging, we deliver a probiotic that we are confident to guarantee as fully potent through the expiration date. We also ensure similar high standards for our products purchased at retail stores – our probiotics are cold-shipped to the store, and the store is required to move them into cold storage within 4 hours. This way, you can be assured that however you buy your Natren Probiotics, they get to you alive, well and ready to go to work!
Learn more about our:
The post Do Your Probiotics Survive Shipping, Storage and Stomach Acid? appeared first on Natren Probiotics Blog.