Don't Fall for the Fall
October 05, 2015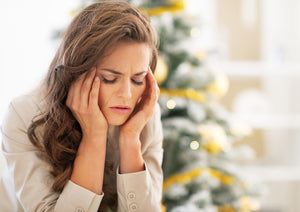 As soon as the kids have gone back to school, it doesn't seem like much time passes at all before it's Halloween, then it's Thanksgiving and before you know it, the Christmas Holiday season is upon us. Hey just a minute, where did the year go?
Every year, we go through the same routine, yet every year we put ourselves through the same stress. All that rushing around, making sure everyone's happy, content and well-fed, just to do it all over again next year. We say we're not going to do it again this year, but we do.
The holiday season is fun for the whole family, but all that running around can wreak havoc on your wellbeing, even derail you from your year-long good intentions, and the last thing you need is not to feel up to par or worse, come down with the holiday blues. One way you can minimize your stress level, is to plan ahead and keep a journal of any shortcuts, tips or hints you pick up throughout the year. Or you can follow some of our examples.
Plan ahead. This can be as simple as making a list of meals you plan to cook, writing shopping or gift lists or even penciling in specific days to go shopping or other various holiday events you're planning to attend. At the very least, if you're a visual person, this is going to save you from double booking yourself and will help you see where you're spreading yourself too thin.
Stick to a budget. Be realistic and remember, you don't have to buy them everything on their list. Quality time spent with the family is priceless, and costs nothing. Some new gift giving ideas you can adopt are donating money to a favorite charity in your family's name or giving a homemade gift or a voucher that can be redeemed for some odd job around the house. One of our favorites is to see who can buy the best present for under $20.
Be realistic. Don't feel like you have to outdo what you did last year. Just spending time with loved ones is what counts. Change or make new traditions as your family changes and grows. If everyone can't be together, try and get everyone to Skype for a few moments instead.
Say no. You don't need to be so hard on yourself. It's impossible to do every activity and attend every dinner you're invited to. And, no one expects you to either. If you're a "yes" person, just think how proud you'll feel for saying no.
Listen to yourself. Find a quiet spot. Even if it's just a few moments alone with no distractions, it may refresh you enough so you can clear you mind and keep going. Remember to slow your breathing and restore your inner calm. Pick up your favorite book and finish a chapter, look up at the stars or listen to some favorite music.
Acknowledge your feelings. It's normal to feel sadness and grief if this has been a bad year. It's ok to cry and let your emotions out. You may not feel like celebrating this year for whatever. And, that's ok too. Your loved ones will understand.
Stick to healthy habits. This is definitely the time of the year when we tend to overindulge. Eat healthy snacks before attending a holiday party so you don't load up on sugary drinks or sweets. Don't cut back on sleep. Get lots of rest. Add regular physical activity into every day. Drink lots of water. Remember to take your daily probiotic.
No doubt the holidays are so much fun, but you don't want to wear yourself out so that you're completely frazzled. Supplementing with a daily probiotic will give you a healthy balance of friendly probiotic bacteria in your gut to help keep your immune system in tiptop shape. Probiotics can also help you digest and break down food, which may be useful if you do overindulge or are feeling particularly stressed.
The post Don't Fall for the Fall appeared first on Natren Probiotics Blog.