In Defense of the Cabbage: Nature's Underrated Super-Food
March 17, 2014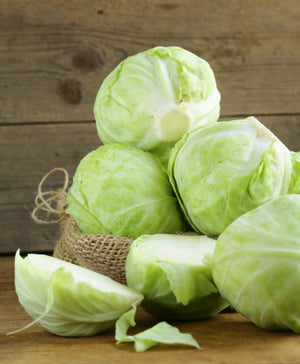 Happy St. Patrick's Day! A day of hazy celebration that also brings one of the most unlikely vegetable heroes to the dinner table – the humble cabbage. Often ignored, the cabbage is not always the most popular vegetable in the produce isle. However, it is one of the most nutritious vegetables you will find. Did you know that:
Cabbage is an incredibly rich source of Vitamin C and Vitamin K. In fact, one cup of this veggie provides you with around 90% of your recommended daily intake of Vitamin C and Vitamin K. It is also a great source of fiber.
It has a very high Glutamine content – an amino acid that is consumed by the intestine as an energy source to maintain a healthy digestive wall and great digestive health.
Research shows that the levels of antioxidants and glucosinolates in cabbage may reduce the risk of cancer.
Cabbage is the foundation for many probiotic-rich fermented foods, such as sauerkraut and kimchi. These are great for maintaining a healthy digestive system.
With all these health benefits, it's hard to imagine why this wondrous food isn't more popular. Perhaps too many people remember the nasty smell of overcooked boiled cabbage from school cafeteria days – an unfortunate side effect of overcooking cabbage is the breakdown of some of the cells into hydrogen sulfide gas – which is why it smells like … well … gas!
Fortunately, there are several great ways to prepare and cook cabbage to enjoy its great benefit as part of a tasty meal. Here are a few pointers:
Try steaming and not boiling – this will retain texture and more of the nutrients. And definitely do not microwave – this will destroy the helpful enzymes 3-4 times quicker than steaming.
Take some thinly sliced cabbage (red or white), carrots and some green onions and you have the makings of delicious coleslaw. Don't feel obliged to load it up with mayo though! A red wine vinaigrette or a chili-lime dressing tossed with the veggi mix will give you a light and healthy side dish.
Chop and stir fry with some onion, garlic, rice vinegar and soy sauce. The trick here is not to over cook it – remove from heat when it becomes slightly wilted. Stir-frying enables you to combine some great flavors (use your imagination), and still keep the cooking time to a minimum so that you can preserve the natural goodness and flavor.
Some people may have trouble digesting cabbage – the insoluble fiber sometimes causes bloating and gas with those that have digestive difficulties. If this is a problem for you, try fermented versions of cabbage such as sauerkraut or kimchi. These are both rich in probiotic beneficial bacteria, which helps break down the vegetable and makes it easier for the body to process and absorb – this is why people have been using fermented foods and probiotics for centuries to aid digestion.
So this St. Patrick's day, raise your glass in a toast to the Cabbage! A staple food of the Irish for centuries, and a world-class vegetable that may help us all live a longer, healthier life!
The post In Defense of the Cabbage: Nature's Underrated Super-Food appeared first on Natren Probiotics Blog.