Natren Warm Yogurt Recipe Ideas for Winter!
December 26, 2016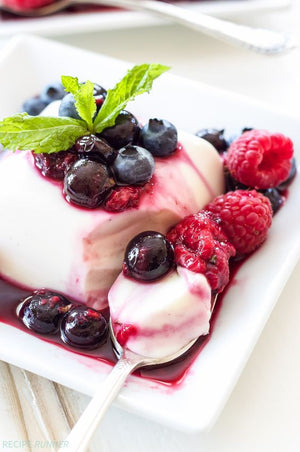 The holidays bring us so many warm treats. Hot mulled wine, warm apple cider, so why not add warm yogurt to your seasonal repertoire? Most people think of yogurt as a dish served cold – but you'd be surprised at the versatility that this staple brings to your table.
Yogurt is an ancient functional food, rich in beneficial bacteria, and is super-easy to make at home to ensure maximum freshness and freedom from chemicals, sugars, and preservatives. It can be refrigerated for use whenever you need an extra creamy addition to your meal. Using Natren's Yogurt Starter you can make your own high quality yogurt at home, the perfect edition for these warm recipes!
Cooking with Yogurt
Before you begin cooking with yogurt, here are a few basic tips and techniques to consider. High heat can cause the yogurt to separate and curdle, but Table Talk shares some very easy directions on how to add yogurt to bread, gravies or sauces and avoid a curdled mess. We also recommend reading these tips before you begin on how to make yogurt in the winter because once the weather gets cooler, you might need to make a few adjustments to your recipes. Whenever you heat yogurt above 120 degrees F or higher, it will kill the yogurt fermenting bacteria, however, the yogurt still remains a functional food and a nutritious dining option.
So, without further ado, let's get those creative cooking juices flowing, with a few of our favorite warm yogurt recipes:
Beef Kebabs in Yogurt Sauce
This is a delicious twist on a traditional dish. By using minced beef instead of cubed meat, you can mix in a whole lot more flavor into the heart of the dish. Warm yogurt makes a perfect accompaniment to this dish. Serve with your choice of rice pilaf, couscous, or simply with pita bread.
Ingredients

2 lb Ground beef
3 cloves Garlic
3 Onion, large
1/2 cup Parsley, fresh
1 can Tomatoes
2/3 tbsp Cayenne
1 Cinnamon stick
1 pinch Clove, ground
3/4 tbsp Paprika
1/2 tsp Salt
1 Salt and black pepper
1 Salt and pepper
1/2 tsp Sugar
6 tbsp Olive oil
1/2 tbsp Vinegar
1 tsp Cumin
1/2 cup Bread crumbs
1 Pita bread, Round
1 1/2 cups Greek yogurt
Healthy Tuna Noodle Casserole
We love this dish for its simplicity – a fast, healthy and delicious meal – ideal for those weeknights where you don't have time to cook an elaborate meal. Most of the ingredients in this recipe can be bought dried or canned – ideal for those days when you just couldn't get to the store!
Ingredients
2 cans Tuna
3/4 cup Button mushrooms
1 1/2 cups Peas, fresh or frozen
1/2 tsp Thyme, ground
1 tsp Mustard, ground
1/2 tsp Celery salt
1 1/2 cups Cheese
2 cups Greek yogurt, plain nonfat
1 cup Milk
Vanilla Yogurt Panna Cotta with Warm Berry Sauce
In a word – "Yum"! What's not to like about this fruity dessert? Delicious and light, and impressive on the plate, this recipe is a keeper for times when you are entertaining. Don't forget, you can make this even more functional by adding any (or all) of the Natren Healthy Start System probiotic powders into the mix.
Ingredients
1 1/2 tsp Vital proteins beef gelatin mixed with
1/2 cup Blackberries, fresh or frozen
1/2 cup Blueberries, fresh or frozen
1 tsp Mint, fresh leaves
1/2 cup Raspberries, fresh or frozen
4 tbsp Honey
1 1/2 tsp Vanilla bean paste or vanilla
1 cup Low-fat milk
1 cup Non-fat or 2% greek yogurt, plain
For more delicious and warm yogurt recipes, please check out our Pinterest board full of fun and tasty ideas!
The post Natren Warm Yogurt Recipe Ideas for Winter! appeared first on Natren Probiotics Blog.