4 Delicious Green Yogurt Recipes for St. Patrick's Day
March 15, 2016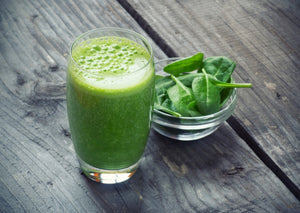 You often hear us say this – there are endless possibilities when it comes to cooking with yogurt and most recipes are really easy to prepare and incredibly delicious. However, if you've never cooked with it before, you don't want to rush into it. Consider reading what we wrote in our previous blog when it comes to cooking with Yogurt.
There are definitely a few things to bear in mind as you're making it. Obviously, since yogurt is a cultured product, you want to make sure you have all the ingredients, like Natren's Yogurt Starter before you make your first batch. Natren uses a centuries-old recipe that's been handed down for generations, and it's even been served to European Royalty. Once you've made that first batch, you'll be hooked on making your own yogurt.
Naturally Green on St. Paddy's Day
Not only is homemade yogurt good for you it, is also incredibly cheap to make. In fact, there are many reasons to make your own, but if you've read your store-bought yogurt label lately, you'll definitely want to avoid all those artificial ingredients and all that sugar.
Making your own yogurt puts you in the drivers' seat of what goes inside so that it's naturally sweet with nothing artificial.   And since it's almost St. Patrick's Day, where even the rivers flow green for the day, we thought we'd share more of our favorite yogurt recipes, which of course are naturally flavored and naturally green in color by using some of the healthiest green fruits and veggies and the latest "trendy" green food, matcha.
Avocado Yogurt Salad Dressing
Bored of the same old store-bought salad dressing? We don't have to tell you that it's definitely not as delicious or as healthy as this Avocado Greek Yogurt Dressing.   This one is so easy to prepare, and chances are, you've probably got most of the ingredients on hand.
Matcha Yogurt Breakfast Bowl
This is our breakfast of champions, a Matcha Yogurt breakfast bowl. It's bound to be a hit on St. Paddy's Day. For more variety add your own toppings like berries, chia seeds, or even a green Bircher-style muesli. So what's matcha you're wondering? Matcha is a special form of powdered green tea that's packed full of nutrients and antioxidants.
Pear Ginger Smoothie
Don't have time to make breakfast? Well, you've got green luck because this Pear Ginger Smoothie takes 5 minutes to prepare, and it's perfect for when you're having one of those mid-morning snack attacks.
Herb Yogurt Sauce
Fancy a change from the traditional corned beef and cabbage on St Patricks Day? We don't blame you, so in keeping with the green theme, plan on making a much healthier Grilled Salmon with Herb Yogurt Sauce for your St. Paddy's Day meal.
We recommend keeping a batch of yogurt on hand, so it's always available when you're ready to cook some of these delicious recipes. Yogurt, when kept in the fridge, will stay fresh for up to two-weeks, and longer if it's stored in the freezer.   Let us know what you think of our "green" favorites? In case you want to try them, and some of the others, we've added them to our Pinterest Board.   Meanwhile as an old Irish blessing says "may your pockets be heavy and your heart be light, may good luck pursue you each morning and night".
The post 4 Delicious Green Yogurt Recipes for St. Patrick's Day appeared first on Natren Probiotics Blog.