Patriotic, Probiotic, Summer Time Smoothie
July 03, 2017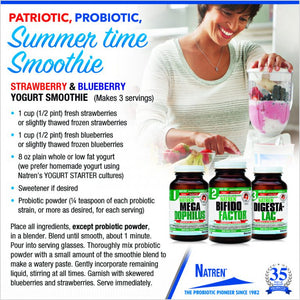 If summer means sunshine and ice-cream to you, then let's take it to the next level this year by going patriotic and probiotic with a summer smoothie.
The right mix of sweetness and natural probiotics in a summer smoothie means the whole family has a stronger immune system and happy, healthy guts. Go ahead and hang the flag out this Fourth of July, but be sure to get patriotic with our red, white & blue delicious smoothie, too.
Why a Smoothie?
Smoothies and summertime are natural bedfellows. It's the perfect beat-the-heat substitute for sugary ice cream or soda. It cools the body down with natural fruit and yogurt while providing a practical mix of probiotics to ensure gut health at the same time. There are a lot of smoothie recipes out there, but many are anything but healthy when you tally up the preservatives, sugar content and pesticides in them.
We'd like to suggest a smoothie that focuses more on a natural approach to coolness. The probiotic, patriotic smoothie is packed full of natural yogurt made using Natren's Yogurt starter cultures, fresh or fresh-frozen fruit and probiotic powder for gut health.
Why Probiotics?
You can make a good tasting and healthy smoothie without adding probiotic powder, but why not get the added benefit? Probiotics introduce good bacteria into the gut to aid in digestion and protect the body from harmful microbes. There is evidence that gut diversity is a critical element in health. Lack of it may be related to everything from cognitive problems to obesity. Research suggests that adding probiotics to your diet may support essential systems, as well; helping to fight off illnesses like the kind you get from swimming in the pool or playing with the kids in the park.
How to Make the Smoothie?
As with most natural recipes, the power is in the ingredients. This one combines a mix of strawberries, yogurt, and blueberries for a red, white and blue appeal. Start by making some homemade yogurt using Natren's Yogurt Starter. Plan ahead, though, it takes about 12-24 hours for the yogurt to completely set. If necessary, you can use a store bought product, just look for something that is low-fat and made without added preservatives and chemicals. Or go vegan, by simply changing out the homemade dairy yogurt for something made from nuts like cashews, instead.
The next step is to pick your fresh fruit, hopefully, from your garden if possible. If you do go with store bought fruit, buy organic. Strawberries and blueberries are on the Environmental Working Group's (EWG) warning list for dirty produce – in fact, strawberries sit at number one on the list and you'll find blueberries in the number 20 spot this year. What this means for consumers is these fruits test positive for the highest loads of pesticide residues, so avoid the added chemical toxins by buying organic produce. Even though the fruit is organic, make sure to wash it well before using it.
Once you have all the ingredients ready, just think red, white and blue. Mix ½ pint of strawberries and ½ pint of blueberries with 8 ounces of yogurt in a blender until smooth. Pour out a little of the smoothie in a cup using this small cup to mix the probiotic powders into. Use at least ¼ teaspoon of each strain, Natren's Healthy Start System with its three bottles of probiotic powders is great for this, but you can also open up any of Natren's single strain capsules for mixing as well. This will create a probiotic paste that you can gently mix back into your smoothie blend. You don't want to blend the probiotics as the blending forces could potentially damage the live bacteria, so always stir them in after blending the other ingredients for best results.
Pretty and Practical
If you really want to make your patriotic, probiotic smoothies pop, garnish them with an inspiring fruit skewer. Just fill the skewer with pieces of whole fruit, alternating strawberries and blueberries then put one into each smoothie you serve.
Sweet, colorful and good tasting, what have you got to lose? Start the summer celebrations this year with a patriotic, probiotic smoothie and keep your gut happy and healthier at the same time.
The post Patriotic, Probiotic, Summer Time Smoothie appeared first on Natren Probiotics Blog.